http://www.tribuneindia.com/2005/20050615/haryana.htm#3
Animal trophies adorn Pataudi palace
Tribune News Service
Panchkula, June 14
Former Indian cricket team captain and accused in the black buck poaching case at Jhajjar, Mr Mansoor Ali Khan Pataudi, is in possession of several wildlife trophies, which adorn the walls of his Ibrahim Palace in Pataudi village.
Wildlife officials in the state say he is in possession of over 52 animal trophies — most being of protected species of deer. While 40 trophies have been registered with the Forest Department, 12 of these trophies are unaccounted for. Sources say as to how these animal trophies were procured by him, will now be verified. The Haryana Police, accompanied by wildlife officials, had recently raided Ibrahim Palace and found animal trophies displayed on the walls of his house.
Officials say after the Government of India made it mandatory that all wildlife trophies, animal skins, products made from protected animals etc., be declared with the Wildlife wing, Mr Patuadi had declared most of his trophies, claiming that these were inherited and certificates of possession were later issued to him.
However, he could not establish the ownership and source of 12 of these trophies, though he had declared these trophies to the Wildlife wing of the Forest Department. Mr Naresh Kadian, wildlife activist who brought to the fore the poaching case of black buck — a Schedule I animal — by Mr Pataudi and seven others, demanded that the antecedents of these trophies should be checked. "These trophies could have been procured as a result of his passion for hunting," he alleged.
Mr Kadian said based on his complaints, the Chief Wildlife Warden (CWW), Haryana, had started conducting an inquiry into the episode today. The Divisional Wildlife Warden, Rohtak, District Wildlife Warden, Jhajjar, Inspector Wildlife, Jhajjar , and the veterinary Inspector who conducted the post mortem of the black buck and hares recovered from Mr Pataudi and his accomplices today appeared before the CWW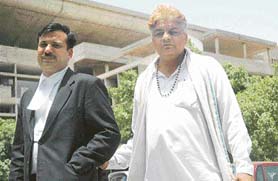 Mr Naresh Kumar Kadyan and his counsel in the Punjab and Haryana High Court on Tuesday in Chandigarh. — Tribune photo by Pradeep Tiwari
Chandigarh, June 14
Without him, the alleged poaching case involving former Indian cricket captain Mansur Ali Khan Pataudi might not have hit headlines. Without him, the case may well have been received a silent burial. After all, it was his persistence that built public pressure on the police to book Mr Pataudi and others for the alleged crime.
But, today, he himself is wanted by the police for his role, controversial some might say, in the digging of the carcasses of the animals allegedly killed by Pataudi and his accomplices and taking them to the Delhi zoo for a post-mortem examination.
Meet, Mr Naresh Kumar Kadyan, Chairman of the Haryana chapter of the People for Animals. Though he claims to be on the run, evading the police who, he adds, is working overtime to arrest him, Mr Kadyan turns up in the most convenient of the places.
If some days ago, he was photographed at a Panchkula police station, today he was present at the Punjab and Haryana High Court, where hearing of Pataudi's pre-arrest bail plea was taking place.
"I may be arrested anytime. But, I am not worried. Whatever the police may say, the truth is that they are under intense public pressure," he told The Tribune. Incidentally, Mr Kadyan had also moved the High Court for anticipatory bail. Some objection in the petition led to the withdrawal of the same and he is still to file a fresh writ.
Claiming that he is being pressured into getting off the case, Mr Kadyan says he has also been offered huge sums of money. "But, I told them to do whatever they could. I will see to it that this case reaches its logical conclusion," he asserts.
He maintains that he was forced to intervene in the matter as the matter was likely to be hushed up. "Within days, the black buck would have been replaced with a blue bull. Tell me, why were the accused not arrested immediately after the recovery of the carcasses? Why wasn't a post-mortem examination got done?" he asks.
Mr Kadyan also alleges that Mr Pataudi and his friends have been regularly coming to Haryana on a shooting expedition. "If they (wildlife authorities) visit his house in New Delhi, they will find many animal trophies," he alleges.
But, didn't he take the law into is own hands by "stealing government property" and obstructing government duty? "Whose crime is bigger, mine or theirs? I did what had to be done and I don't repent," he says.